Join us for a special webinar presented by Branimir Angelov, Co-Founder and CTO of Kubo, Software Architecture Consultant in Obecto, and Member of the Comrade Cooperative.
This talk will focus on reactive programming and how to use Apache Ignite to build a serverless computation framework that is based on reactive streams (Perper). We will discuss Apache Ignite topics such as services, data locality, continuous queries, and platform interoperability. We will show how to use reactive streams to design and structure serverless applications and how to use Kubernetes to operate such applications. As a use case, we will illustrate how this highly scalable framework can be used to build a decentralized consensus network.
---
PRESENTED BY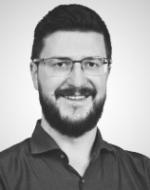 Branimir Angelov
Co-founder and CTO of Kubo; Software Architecture Consultant in Obecto and Member of Comrade Cooperative
Branimir is an open-source technology enthusiast in the area of distributed computation. His professional interests span from cloud-native technologies in private data centers to community computing using blockchain technologies. He is a co-founder and CTO of Kubo, European company offering Private Kubernetes Cloud. Since 2019, he has been part of Obecto and Comrade Cooperative working on Perper and Apocryph projects. Before that, Branimir had 13 years of experience in software development and architecture, serving as Director Software Architecture in Wacom.